Tali Hatuka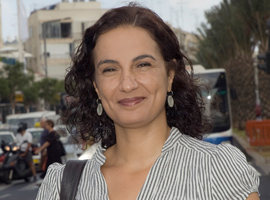 Dr. Tali Hatuka (B.Arch, MSc., PhD), an architect and urban planner, is the Head of the Laboratory of contemporary Urban Design, in the Department of Geography and Human Environment at Tel Aviv University (since October 2009). Hatuka works primarily on social, planning and architectural issues, focusing on the relationships between urban development, technology and violence in contemporary society. Her recent awards for research include the prestigious MIT International Science and Technology Initiatives (2011), the European Community's Marie Curie OIF and IRG (FP6, FP7) Fellowships (2006-2009, 2009-2013), a Fulbright Postdoctoral Fellowship (2004-2005), and the Recther Prize for young Israeli architect of 2012 (Ministry of Culture and Sport, 2012).
Researchers
Hadas Zur
Hadas Zur received her M.A (2016) in Sociology & Anthropology and B.A (2012, Magna Cum Laude) in Women and Gender Studies, and Cinema from Tel Aviv University. Her M.A thesis focused on the spatial history of prostitution in tel Aviv during the years 1975-1995. She worked as a conflict group facilitator and led Israeli-Palestinian dialogue seminars in several organization in Israel, Germany, and the USA. Alongside working as an academic coordinator at the Walter Lebach institute for Jewish Arab relations at TAU. Prior to joining the lab she worked at the Israeli green building council. Now, she is a PhD candidate, studying smart cities and its implications on social disadvantage groups in the urban environment.
Yulia Furshik
Yulia Furshik received her B.A in Philosophy and Biology (2016) from Tel Aviv University. Currently she is doing an M.A. in Urban Studies. Yulia joined the Laboratory for Contemporary Urban Design (LCUD) in 2016. Beforehand she has been working for several years in the field of Informal Education, namely in BINA – Center for Jewish Identity and Hebrew Culture and the Bronfman Youth Fellowship in Israel.
Coral Hamo Goren
Coral Hamo Goren received her B.Arch. degree from the Bezalel Academy of Arts & Design (2016). She is currently studying for her M.A. in Urban Studies, and has joined the Laboratory for Contemporary Urban Design (LCUD) in 2017.  Her main point of interest is the future of cities, in an age of rising violence and increased population density.